If you never try, you'll never know!
The Kevin Daum - LT100 Story
The journey to Leadville is more about the ability to overcome… as race promoter Ken Chlouber says in his opening remarks, "Dig Deep….You're better than you think you are and you can do more than you think you can!"
My second Leadville 100 is a story about life, love and inner desire to push myself beyond where common sense screams and fights with you inner will to stop. Unbeknownst to myself, the second journey started 3 weeks before my first LT100 in 2004. It was a sunny day at the end of July, I was putting the finishing touches on my mountain bike when the love of my life, my wife Connie, tapped me on the shoulder and presented me with the gift of life. "What does that mean", I said as I wiped the grease from my hands. She looked at me like I was joking, but I really had no idea what color represented what? "Uh, I think we need to go to the doctor before we go to Colorado. We're pregnant! She gleamed!
Three weeks later we where in Leadville Colorado for my first LT100, what an epic experience. I drove myself into the ground, 6 feet under to be exact. I had no idea how I crossed the finish line? I zoned, zonked and blacked out! I thought it was going to be my last race, so I pushed myself beyond my limits falling short of my 9 hour goal by 45 minutes. A baby on the way, I'll be a family man in 7 months, no way I will return to Leadville. My first LT100 in 2004 destroyed me and I did not want to return to this state of broken, mindless, senseless, and downright insane decay of body, mind and soul.
Click here for my first LT100 story.

Let me fill you in on a brief description of the LT100 before we move on. America's highest altitude 100 mile off-road mountain bike race. "The race across the sky" is what they call it. It is one of the pinnacles of ultra distance races, both for bike and running. Yup, that's right…they also hold a 100 mile running race, takes most participants 20-30 hours to complete and takes place the weekend after the bike race. Back to the bike race, the obvious goal is to win but that is not the vibe at this race, for 80% of the racers the goal is to survive your mind telling you to quit, find fortitude and finish the race in under 12 hours. If you finish with 9-12 hours a prized trophy is yours…a beautiful handcrafted silver belt buckle(only 60% finish within the 9-12 cut off time) Once you know you can finish in under 12 hours the race is on for the under 9 hour finish, and the coveted large "silver and gold" belt buckle, usually reserved for the top 50 racers. The bike race travels mountain trails that gain and descend 15,000 vertical feet. Hypothermia, altitude sickness, broken bones, delirium, exhaustion and lightening are just a few details that we participants encounter. The race starts in downtown Leadville at 9,000+ ft above sea level and climbs a total of five mountains on your way to the out and back 103 miles, the highest point of the race occurs around mile 50, a 12,800 foot climb up Columbine Mountain. The air is thin; the trail gets steep and your head pounds, searching for oxygen to supply the muscles and heart with the needed energy to keep systems a go! Then you turn around and descend at speeds close to 40 mph on loose and rocky fire roads, climb two more mountains and return to the town of Leadville. Are you ready?
November 2004, I'm finally recovered from my first LT100 when the postcard arrives in the mail, indicating that all entries into the 2005 race must be received soon, very soon, the next day in order to be accepted into the 2005 ultra long distance event. What do I do? My wife looks me in the eye, senses my nervous tensions and says you know what you need to do! "Don't question yourself, go for it" she tells me. I bark back about the baby on the way, how the hell am I going to train, adjust and adapt to our new arrival. She smiled, shrugged her shoulders and said "send the entry in, we'll find a way."
Landon was born four months after I sent my entry in, on March 31, 2005 to be exact. A glorious day! Four days after my birthday and 135 days until my second attempt at a sub-nine hour finish at Leadville. Training was right on schedule, up til now. I knew what I had to do, but how can I do both? The search was on to find a new balance in my life - to be there for my new family and to find time for my passion in life…the bike. I fought with myself, searching for harmony; "Dig Deep" had a new meaning. Waking up with Landon three times a night and still getting up before work to get on the trainer, or to slip in a quick ride after work, before I got home. When I got the chance I would throw on my winter gear and do a 6-8 hour Sunday ride with my training partner and chief motivator Ken in the middle of a nasty, cold and salty Ohio winter. I watched in horror as my training volume was cut in half, but those hours became more specific and defined. "Is it possible?" I would ask myself as I looked in the mirror and saw the dark circles under my eyes. There came a time where I told my wife I am not going, it's not fair to you and baby Landon. Then I would try the selfish excuse, I don't want to put myself through the pain and agony of Leadville for another 9+ hour time, I already had the small buckle, don't want another. I desire the coveted big daddy gold buckle reserved for the 50 or so sub nine hour finishers if I'm going to wreck my body again. She just smiled, I tried to argue why I shouldn't go and she saw right thru me.
August 13, 2005, 5:30 am, 40 degrees, I'm lining up for my second Leadville Trail 100. I look at my 4 month old son with tears in my eyes and say this one is for you little guy. He smiles back, he knows!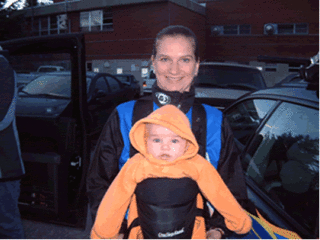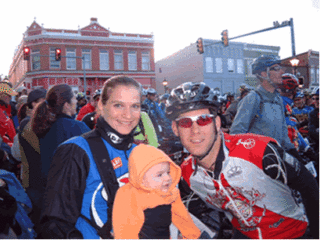 At 6:30 the start gun fires off and 750 rapid and hungry mountain bikers are on for the battle of their lives. The 360 days of training, educating, and nourishing my body are behind me. The long discussions with Ken about what changes we are going to make this year are complete. This year I kept refining my diet, I'm 15 pounds lighter but still tilt the scale at 185 with a 6'-4" inch frame. I make the brutal decision to switch bikes and save even more weight by riding my hard tail bike rather then my full suspension. I decide to take less gear and food with me, lightening my load. I feel good. Damn good to be alive and descending with the pack out of downtown Leadville and into the mountains. I move up into the top 40 riders or so and go thru the mental check list. SCREECH, BAMB, POP, SLAM….the sounds you do not want to hear, they are behind me, a nasty crash at 30mph, a couple riders go down hard. I hope Ken escaped the carnage. I'm glad I pushed to get up front and out of the nervous energy in the middle of the pack. After 3 miles of gently swerving road, spreading out the pack a bit, the pace vehicle pulls off and the race is on. I'm up front and watch as the leaders find their rhythm. I watch the other Ohio rider Garth, (a top 20 finisher several times) stand up and puts the power to the cranks and catches the main group. I hang on to the back of pack and drop into my zone. I watch as the leaders race up the first hill, St. Keven…they are gone!
Click here to view a video of the start of the LT100. You gotta see what 700+ riders looks like (I had no idea)
small file-faster download
LT100 Start
large file-slow download
LT100 Start
The race has 5 time check points, they are there for safety sake, everyone is encouraged to continue, even if they are off the pace, but will eventually be pulled from the race if they can not complete the 103 mile race in under 13 hour time pace. I had studied the check point times and had planned for a nine hour race. The split times where taped to my handle bars. My own race was forming, the race from checkpoint to checkpoint.
STATION....Time Goals..Actual Time In/Elapsed Time Place
Start
Pipeline - Pass 1.....2:00....8:28:00./.001:58:00...........33
Twin Lakes - Pass 1...2:44....09:12:00./.002:42:00..........34
Columbine Mine........4:30....11:09:00./.004:39:00..........53 (the climb)
Twin Lakes Pass 2.....5:10....11:42:00./.005:12:00..........59
Pipeline Pass 2.......6:10....12:38:00./.006:08:00..........56
Finish................8:57....15:18:56./.008:48:56..........58
I could not believe Ken & I started the morning with no breakfast, yes, that's correct…no food leading up to the race. I've been studying nutrition for a bit, still have a lot to learn, but we picked up a ton of knowledge from Hammer Nutrition. The food you eat in the hours leading up to an ultra event have the potential to sit in your stomach and cause huge problems later in the race (ask Ken about 2004) We started our 100% liquid nutrition diet from the start line. No solid food for 8 hours leading up to the event, and none during the 9 hour attempt. I felt great.
I made it up the first mountain, St. Keven and down the other side, then made the climb up Haggerman Pass which leads up to the 2nd mountain of the day. Then the ever popular Powerline decent. A 15 minute downhill joy ride through rocks, water bars and huge rain ruts - a giant smile on my face…I was relaxed and having a good time. What made the downhills so much fun is our preparation. The week before the race, my family drove out to Colorado to help crew for the race. My dad volunteered to drive Ken and I up to the top of each mountain, sometimes twice. So we could save our climbing legs for the race and master the downhills. I hope my father realizes how much that helped us, knowing which turns we needed to snag a tad of brake and others we could take at full speed. So the Powerline held no real surprises this year, it was rough, nasty and pretty darn predictable. Thanks Dad! The race was on to check point one!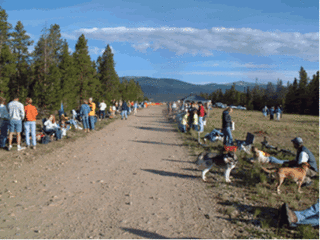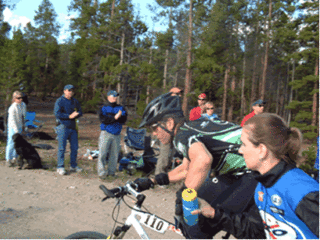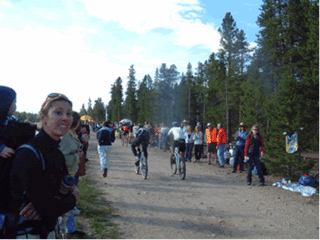 I made it to check point one, looked at my time…I was two minutes faster then I needed to be, that was good. I knew the big climb was coming after the next aid station. I worked with several guys, actually…one guy pulled the entire pipeline. I was ready to exchange pulls, but he kept a good pace and never looked for help. I was in 34th place at the bottom of the climb and right on schedule, but the bastard climb was right underneath my tires! I had worked and trained on the hills as much as I could, but I still weighed 50 pounds more then most of the sub-nine Colorado finishers. Last year I lost over 40 positions on this climb…well…I dropped into my climbing zone and went at it. By the time I was at the top, I only lost 20 positions, I wasn't happy, but a good improvement over 2004, and I felt 100% better then last year. I snatched some watermelon slices, grabbed my bike and began the descent. The entire mountain from top to bottom was filled with riders ascending to the top, the determination on everyone faces told a different story about way they were there. A senator, a governor, a cancer survivor, doctors, lawyers, all together with a common bond of hurt and fortitude; we were all connected in our own personal goal of conquering this race.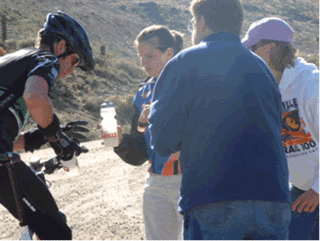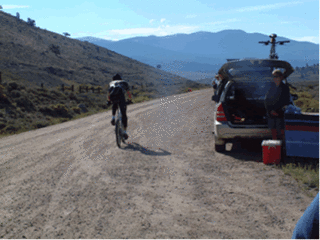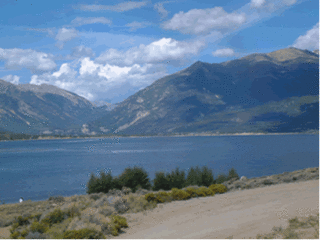 The race was on to check point 4, the final crew station. After dropping time on the climb, I recovered a couple of minutes on the descent. On the pipeline, I again worked with several guys the entire way, the strong guys pulled for minutes, the weaker for a couple of seconds, giving what they had but each contributing…until the end of the race that is…we'll get to that in a minute.
I made it back to the final check point, 5 minutes ahead of schedule. The sub nine is within reach if I don't blow up! I try not to think about it. I decide on just two water bottles, some Hammer Nutrition pills and I was off. Hooked up with another guy and we worked the road back to the Powerline, trying to get others on board as we passed them. Then it appeared…the POWERLINE, the monster climb at around mile 80. I rode up the first part as much as I could…way to much as a matter of fact. As I dismounted to begin the hike-a-bike I was out of breath and my head was spinning and throbbing - I thought I was loosing it. I rested my head on the handle bars for a few moments, nobody that passed me asked; they were all going thru the same thing. I opened my eyes and saw the pictures of Landon I had taped to my handlebars.
I smiled, grabbed my bike and pushed on. After the push I jumped on my bike and did not get off til the finish line. I set a pace I was comfortable with, I did not care if anyone passed me, ½ hour later I was at the top of dreaded climb number 4. A guy behind me gently spoke between breaths "way to go - perfect pace". Danny was his name, Brenkenridge was his game. He was on my wheel the entire climb. Last year I stopped several times on this climb and walked. This year, aside from the lower half, I rode the entire thing. I was shocked, personal goal achieved! I talked a bit with the rider, it was his second year also. He finished 4 minutes ahead of me last year but he had also done the running race. I descended the next hill a bit faster but he caught up to me on the next climb and set a perfect pace. Nothing was said, middle ring climb for a good 20 minutes, it was my turn to get on his wheel. We made it to the mini-check point at 8 hours. We had instant respect for each other. I had a managed a sub-nine smeark as a volunteer filled my bottle with water…I think I have it…9 hours that is. I continued the climb and then the descent down St. Keven's. (during the awards I learned that there were several nasty accidents here, broken leg, broken collar bone, broken tail bone, concussion) Made it to the bottom and I latched onto another riders wheel, he got tired and I jumped up front for a long time. I slowed and pulled off a bit, 5 guys behind me and nobody jumped up to take a pull. I know we all had the goal of a sub nine hour finish and we were on the bubble…lets work together. Then Danny from Breckenridge caught the group, he smiled and said it's my turn, sit in for bit. We exchanged several pulls, with the same guys on the back. When we hit the road, Danny yelled, "do any of you know what a pace line is?….come-on…let's work together." (On a side note... Mtn bikers are hilarious when they try to organize a pace line - taken from Fat Cyclist Blog comment) At that time a few guys tried, but I think they were cooked. After a while Danny and I looked at each other and we took off, two guys hung on and then only one.
We hit the Boulevard climb, 3 miles to go! Just Danny and I. Last year I was crushed by this section, little ring and walking. This year middle ring and 10-14 mph…Danny and I were hurt'n, yet cruising towards sub-nine. We hit the cement and crested the hill, saw the finish line and we smiled. We decided we would cross the finish line together. We slowed down a bit, nothing to worry about, 13 minutes to go til 9 hour cut off time. Then out of nowhere comes these guys sprinting passed us. I look at Danny, Danny looks at me. I told Danny, sorry, I can't let this happen. I tossed the chain into the big ring, stood up and hammered down. I heard the announcer yell, "it looks like we have a race!" The crowd got excited as the finish line neared, then the competition folded, submitted, he had no more. I glanced back and shook my head. I could not believe this guy, after Danny and I pulled him to a sub-nine finish, but hey...thats racing, ain't it! I was looking forward to crossing the line with Danny. Connie came running up and exclaimed "that was awesome, you just gave him THE LOOK" (referring to the famous Lance Armstrong to Jan Ullrich look at the Tour de France) Danny pulled up next to me, three places behind me and shook his head. I was gasping for air after the sprint, but managed a sub-nine grin. We shook hands to a job well done and he invited me out to Breckenridge to show me his home town trails. No doubt…I'll find a way to get there! (one a side note, the racer who passed us came up after the finish and thanked us for pulling him in, he said he had the speed coming down the hill and had to give it a try)
I took off my helmet and let it soak in. Ohio boy gets sub-nine! Goal accomplished! I caught my breath and looked for Danny. I forgot to get his contact info…he was gone! I asked Connie if this guy existed or was it an illusion. She smiled, he just left, you'll see him at the awards. I looked over and saw Karen, Ken's wife…I knew if she was there Ken was on the way. Would he break nine hours also? Sweet! She said he was 16 minutes behind me at the last check point. Way to go Ken! To be honest, I thought Ken would crush me this year. He set the tone for our training and helped push me through some very rough weeks. I knew when I was not training he was, so I would get up and go pound some pavement when I should have been catching up on some sleep. Ken also visited Mt. Mitchell twice this year to train for the Columbine climb, on the weekend of Landon's birth non the less. I looked at my watch, "dang" I thought, he's going to punish his finishing time of last year…right on! 33 minutes later we looked down the road, not sure who the rider was until I noticed the sure fire swagger of Ken's pushed past the limits body language. He beat his last year time by over 1:38 minutes! His training and planning sure paid off this year! Way to go Ken!
The one thing that really hit home to me at this year Leadville 100 is there is always room for improvement and never underestimate or doubt yourself. Motivation comes from everywhere, find it. The top finisher and winner this year was three time Champion Dave Wiens, he is over 40 years old and finished in 7 hours, 17 minutes. I have room for improvement and years to do it. I'm contemplating a return for a shot at sub-eight one of these years. On the way home that night I was looking out the windows at the surrounding mountains and I had a vision. A tandem bike, my son Landon and I, gunning for a sub-nine finish. Time will tell.
Thanks again to my parents for coming out and crewing for the second straight year. Could not have done it without ya! Thanks again to my parents for watching baby Landon during the race and while I was training. Thanks to Tim, for the two weeks off work so I could acclimate to the altitude and thin air. Thanks Kellie for letting some of her RAAM knowledge help me with this small race. To Ken for the training, coordination, motivation and RV. The Rogue Mechanic for "dialing in" a sub-nine race bike and back up rig. Solon Bicycle - need a bike…ask for Dan. To our sponsors, Rock Shox, Avid, Rudy, Clear Choice, Hammer Nutrition! Most of all…thanks to my wife, who never doubted my ability to return to Leadville. It was a crazy and tough return, but our relationship has flourished and our bond is ever so greater due to the magic and mystery that surrounds this larger then life event. And to my chief motivator, my son, Landon, who smiled and laughed when we walked up to receive the gold buckle at the awards ceremony. I hope to cross the finish line with you one day, if you decide to guide yourself down this mysterious road called Leadville.
A few photos of the two weeks spent in Colorado. Conquering another 14er – Mt Lincoln and Cameron. Riding the Monarc Trail in Salida. Randy and I jumping off a mountain outside of Vail and soaring with the eagles.